It's the second annual Off My Shelf Christmas Extravaganza!
For the holiday season I gathered a candy coated cacophony of comrades to chat about a couple holiday favourites to get us in a holly jolly Christmas mood.
This year we are talking about the festive favourites Gremlins and National Lampoon's Christmas vacation!
My guests are
Alix Cook
Sean Archer
Jamie Cochrane
Mike Suderman
Mike Linnington
Jessica Lutzer
Title: Gremlins
Release: 1984
Director: Joe Dante
Stars: Zach Galligan, Phoebe Cates, Hoyte Axton
Title: National Lampoon's Christmas Vacation
Release: 1989
Director: Jeremiah S. Chechik
Stars: Chevy Chase, Beverly D'Angelo, Juliette Lewis, Johnny Galecki
Jello Shots
Each recipe makes about 12 shots.
Red
1 pack Cherry Jello
1 cup boiling water
1/3 cup Vodka
1/3 cup Cherry Brandy
In a bowl empty jello packet and add water. Stir until the powder is dissolved. Then add the Vodka and Cherry Brandy. Pour into shot glasses and refrigerate.
Green
1 pack Lime Jello
1 cup boiling water
1/3 cup Vodka
1/3 cup Blue Curaçao
In a bowl empty jello packet and add water. Stir until the powder is dissolved. Then add the Vodka and Cherry Brandy. Pour into shot glasses and refrigerate.
John Hughes
So I got my notes mixed up, John Hughes did not write Gremlins, he wrote Christmas Vacation. Chris Columbus wrote Gremlins. I would have thought someone would have called me on that but he did have to do with the production of movie so I guess a bit of drinking got everybody mixed up
Chuck Jones
Chuck Jones is a prolific animator who created beloved characters as well as directed, wrote, and produced animated shorts and films. Check out his IMDB you will easily recognise his work.
Comic Books in the Gremlins movie
The 3D comic that was referred to seems to be something called "The Woods of Terror" which seemed to be some sort of 3D comic book. I only found this out by rewatching part of the film as while googling I found no reference to the book that was being read in the film.
While googling I did find this cool article about the history of 3D Comics and this article about the comic books that make an appearance .  There is a Conan, House of Mystery, and All-Star Squadron, that can be identified. He also mentions a possible theme with the issues that are shown. It is a quick read but interesting.
Zenith
The electronics company started in 1918 with making radio equipment. They got into TVs in 1948 but it wasn't until 1956 when they introduced "Space Command" the first TV remote as we know them. They had a bunch of innovations in the realm of TV for years and then they just kind of stalled. But without them I don't know what the state of TV would be. I believe they are still making things.
Missed Star Trek Reference
Well it happened, there was a Star Trek reference that I missed that Sean got. He was talking about Deputy Brent who was played by Johnathan Banks. He was in the DS9 S1E12 "Battle Lines" but he was wrong about him being in a bunch of TNG episodes. So I am taking this as a win for me.
Questionable Content
As mentioned this is a web comic and I have been reading it for years. Absolutely love it. I met the author Jeph Jacques a couple of times when he did the Toronto Comic Arts Festival.
I got a Hanerole sketch when I bought his book.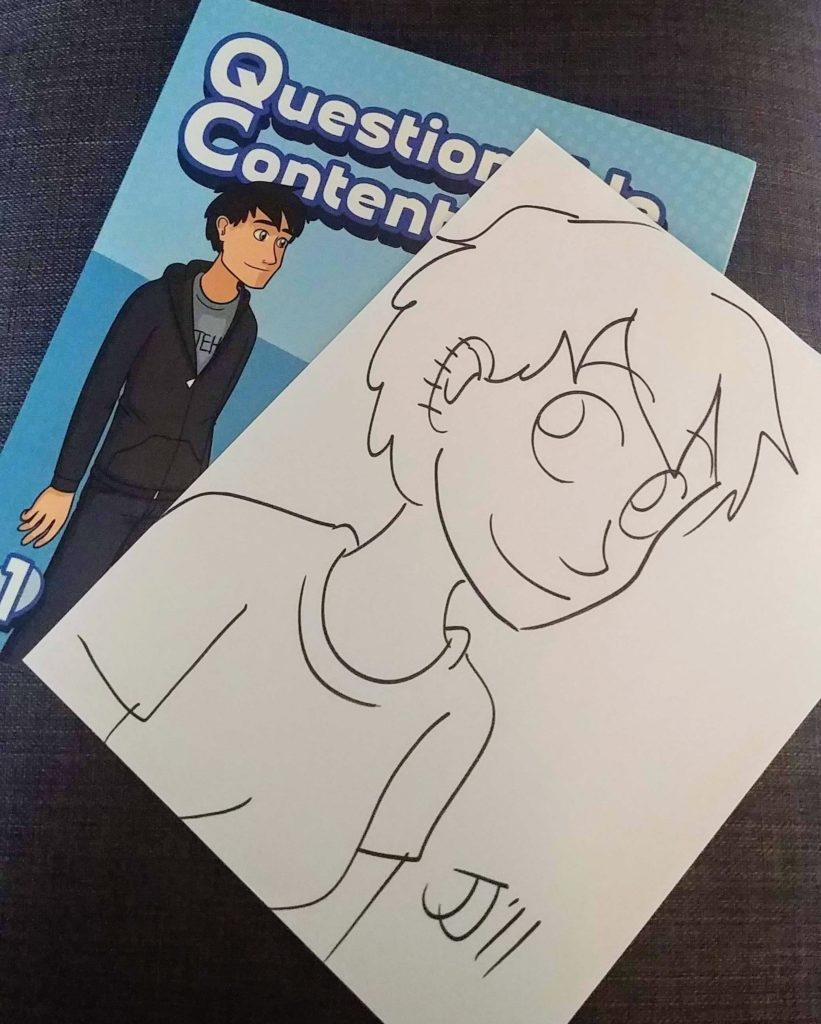 and I got a plush Pintsize that sits on top of my shelf.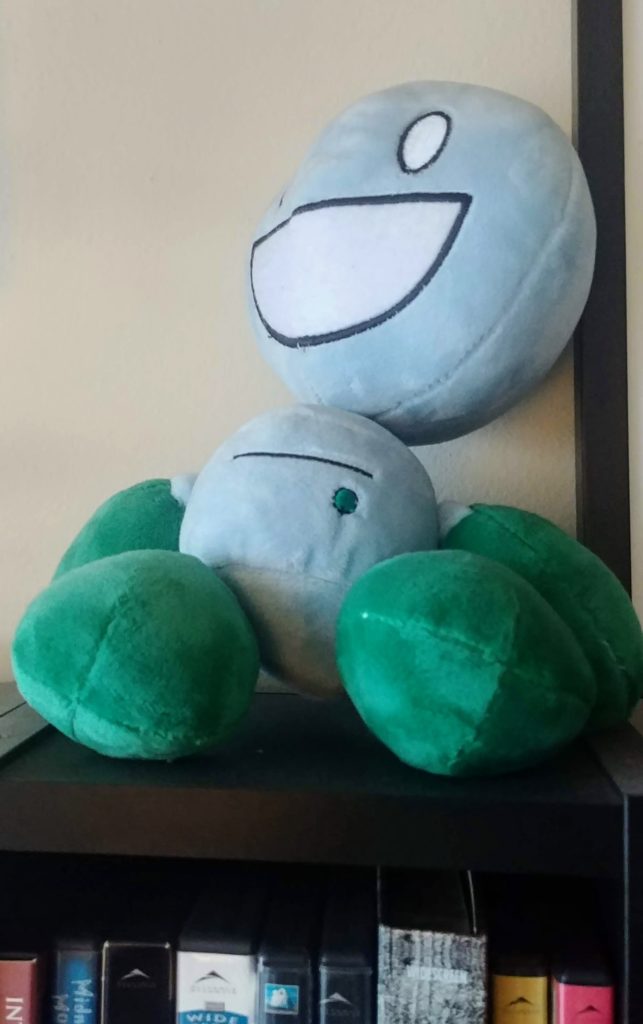 The specific comic I was referring to was the one published on Dec 12, 2019.
Christmas Quiz
Here are the questions and answers in case you want to know
1. What kind of Christmas Eve made santa ask, "Rudolph with your nose so bright, would you guide my sleigh tonight?"
Answer: Foggy
2. Rudolph may not have been able to play in any reindeer games, but this actor got to play the lead in the spectacularly horrible film.
Answer: Ben Affleck
3. Not everything at Christmas happens at the North Pole, when Buddy the Elf decides to leave he says farewell to everyone including this creature that is the last to wish him well.
Answer: Narwhal
4. Elf was directed by this marvelous man with a varied career as both a director and actor who is known for comedic roles and lately his obsession with food.
Answer: Jon Favreau
5. Elf isn't Favreau's only Christmas film, he also starred alongside his longtime buddy Vince Vaughn with Reese Witherspoon in this mostly forgotten holiday film.
Answer: Four Christmases
6. If you pay attention to Four Christmases, you would have noticed a cameo by this blue eyed actor from a beloved Christmas classic who is no kid anymore.
Answer: Peter Billingsley
7. Billingsley as Ralphy had a holiday filled with high jinx including a run in with this yellow eyes bully. (When asking this question I misspoke and called the character "Randy" sorry)
Answer: Scut Farkus
8. Farkus was played by Zach Ward, who has continued his career by doing a lot of TV and bmovies including the 2016 "A Christmas in Vermont" which also starred this SNL alum.
Answer: Chevy Chase
Home Movie Cameras in the 1950s
So according to my very minimal googling. I came across this video.
So $59.50 in 1950 is the equivalent of $633.41 today. I mean, that is a lot but it is cheaper than a lot of cell phones out there.
Why did I ask about a Pony?
Well I was making reference to this. Some people in the room missed it some didn't
Harissa
Harissa is a spicy and aromatic chile paste that's a widely used staple in North African and Middle Eastern cooking.
Life Day
This is a star wars thing. I know, neeeeeeeeeeerd!
According to Starwars.com : "November 17 is an important day on the Wookiee planet of Kashyyyk — it's Life Day! A celebration of nature, family and new life. "
So technically we missed it but still it is a holiday! That link even tells you how to throw a Life Day celebration. You totally know you are going to do that next year