The week we are back to our regularly scheduled programming with Shayna Fine as we talk about the Chronicles of Riddick and Cinderella.
Chronicles of Riddick
Release: 2004
Director: David Twohy
Stars: Vin Diesel, Judi Dench, Colm Feore, Karl Urban, Thandie Newton
Cinderella
Release: 1950
Director: Clyde Geronimi, Wilfred Jackson, Hamilton Luske
Stars: Ilene Woods, James MacDonald, Eleanor Audley
The guy in a suit
Thandie Newton's outfits
Definition of Necromancer
A person who practices necromancy; a wizard or magician.  Conjuration of the spirits of the dead for purposes of magically revealing the future or influencing the course of events
Nick Chinlund
As mentioned he played the character Donny Pfaster on The X-Files. The character showed up twice. First in the season 2 episode "Irresistible" and then the season 7 episode "Orison". Both are very intense and uncomfortable episodes to watch but they are so good.
The Minebuster at Canada's Wonderland
In case you didn't know, Canada's Wonderland is a very popular theme park in Ontario. And here is the vid for the classic rollercoaster.
How far is a parsec?
A Parsec is a very long distance. It is over 30 trillion km which is around 3.26 light years!
Queen Latifah in Little Mermaid Live as Ursurla
Queen Latifah Annie Leibovitz photo shoot as Ursula
This shoot was done quite a bit more than 4 years ago all the way back in 2011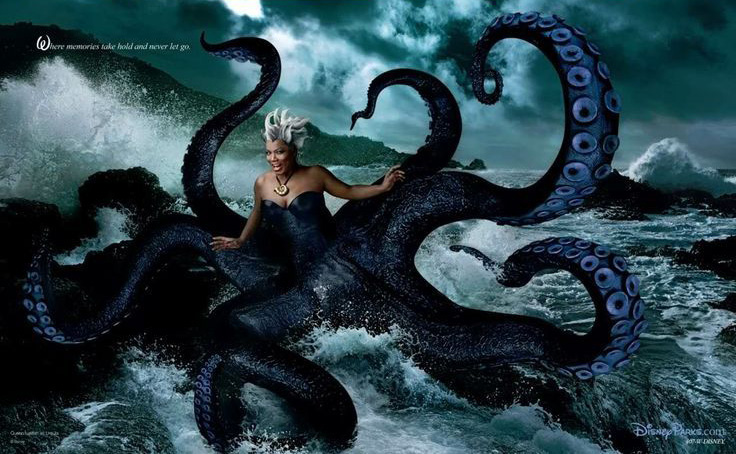 Cinderella's Choker
Apparently the black choker was a style at the time though it has a bit of a unsavoury origin. According to the little research I did, the choker was first prevalent in the late 18th Century when it was warn by prostitutes. It was an indication of their profession. But during the 19th century the trend was picked up by artists and dancers, then it was picked up by notable and more fashionable women.
Foot Binding
This was the custom of applying tight binding to the feet of young girls to modify the shape and size of their feet. This tradition originated in China. Apparently the ideal foot size was about 4in.
Neuschwanstein Castle in Germany aka Cinderella's REAL Castle