In this first episode on the Matrix Franchise, Sarah Behl joins me in getting trapped in a cyberpunk dystopia with The Matrix and The Animatrix.
Animatrix
Release: 2003
Director: Andy Jones, Mahiro Maeda, Shinichiro Watanabe, Yoshiaki Kawajiri, Koji Marimoto, Peter Chung
Stars: Pamela Adlon, John DiMaggio, Tom Kenny,
The Matrix
Release: 1999
Director: The Wachowskis (The Wachowski Brothers)
Stars: Keanu Reeves, Carrie-Anne Moss, Laurence Fishburne, Hugo Weaving
What things smell like in space
Here is an article about 4 great smells in the galaxy
https://blogs.scientificamerican.com/oscillator/four-great-scents-from-outer-space/#:~:text=The%20Center%20of%20the%20Galaxy,Milky%20Way%20smells%20like%20raspberries.
The Singularity
According to this Smithsonian article it is supposed to happen around 2045… That's kinda soon.
https://www.smithsonianmag.com/air-space-magazine/reaching-singularity-may-be-humanitys-greatest-and-last-accomplishment-180974528/#:~:text=While%20futurist%20Ray%20Kurzweil%20predicted,the%20advent%20of%20quantum%20computing.
Flight of the Conchords – Robots
https://www.youtube.com/watch?v=2IPAOxrH7Ro
WW3
Ok I was kinda off but technically right. In Star Trek WW3 starts in 2026 (That is just 4 years away!!!) and ends in 2053. I said 2050 so I am counting that as being correct.
George Jetson
Apparently George Jetson was born on July 31, 2022.
Sci-Fi Timeline
This is the other chart that I saw. Apparently we are at Soylent Green….make sure if you eat random gelatinous substances it isn't people.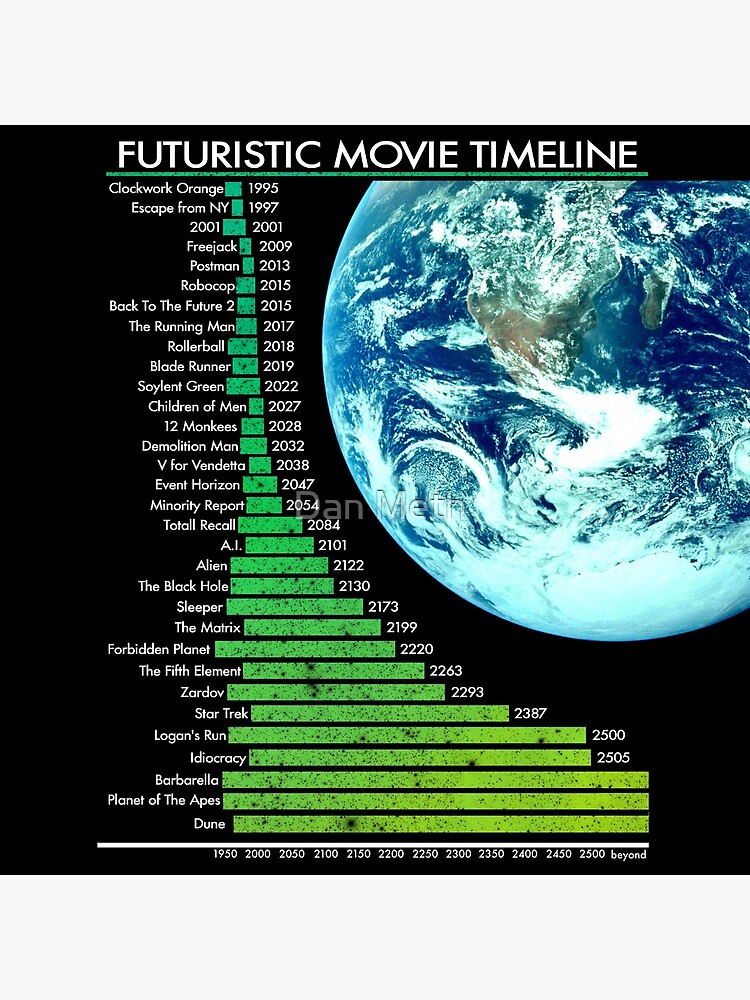 Radiohead
The song is not called "You do it to yourself" it is called "Just". It was released in 1995 on their album The Bends. If you don't know this song you have missed out. https://www.youtube.com/watch?v=oIFLtNYI3Ls
Also here is "Paranoid Android" off of OK Computer. https://www.youtube.com/watch?v=fHiGbolFFGw