It's the third annual Off My Shelf Christmas Extravaganza!
For the holiday season I gathered a fantastic forum of friendly folks to fraternize about festive favourites to get us in a very merry Christmas spirit.
This year we are talking about tv. Holiday tv to be specific. Each of my guests picked a holiday favourite to talk about which includes episodes from Doctor Who, The Office, Supernatural, Community, and the X-Files.
Doctor Who – S5E14 – "A Christmas Carol"
The Office – S5E10 – "Moroccan Christmas"
Supernatural – S3E8 – "A Very Supernatural Christmas"
Community – S2E11 – "Abed's Uncontrollable Christmas"
The X-Files – S6E6 – "How the Ghosts Stole Christmas"
Dinsaurs on a Spaceship
This was the S7E2 of Doctor Who. I mean that is a pretty alluring title.
Christian Kane
Apparently this is Christian Kane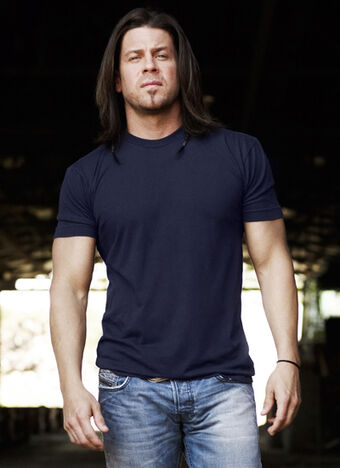 He has been in shows like Angel and The Librarians and in films such as Friday Night Lights and Just Married.
The X-files
I can't believe I misspoke when talking about this. But it was the first season when they moved to the show to LA. This was after the release of the movie.
Dutch Christmas Tradition
The Blackface Dutch companion to Saint Nicholas is Zwarte Piet also known as Black Pete.
Ferengi Ear Rubbing
Well, Sean was close as to what this is called Oo-mox. It is the act of messaging a Ferengi's lobes which is kind of a sexual act as the ears are a major erogenous zone for the Ferengi.
Christmas Quiz!!
All these episodes chosen have this word in the episode title.
At the end of the X-Files episode, Bing Crosby croons over a gruesome scene as he wishes you to have this kind of Christmas.
Over his long career, Ed Asner has been in many holiday films, including this one, that many of you despise for some reason, where he plays the big man himself, Santa Claus.
In Supernatural, when trying to figure out what kind of creature they are looking for, Sam mentions several entities that he refers to as "Anti-Claus" including this one that several horror movies are based on.
Sam and Dean also mention that many aspects of Christmas celebrations come from the pagan celebration of the winter solstice. What is this also known as?
They Find out that a pegan god is feasting on people. One of those gods is played by Spencer Garrett, who has made a few appearances on this show that I can always find a connection to.
They don't celebrate Christmas in star trek, but in this movie, while trapped in the Nexus, Picard's perfect place and time seems to be an idealized Christmas with the family he never had.
There is christmas in space however, but it is a little different as Doctor Who goes to a planet where these creatures are in the clouds
An ideal Christmas is all Abed wants to have but when he can't have it he has a mental break and his world seems to be in this kind of animation style.
In this fantasy world that Abed creates there are no traditional christmas songs but he does turn Troy into this classic christmas carol character.
In the Office, all Angela wants is a traditional office christmas party, but she is not in charge this year, this coworker is
Angela goes along with all of Phyllis' crazy demands because she is being blackmailed with what information?

Angela is cheating on Andy with Dwight

Besides Christmas, all the episodes surprisingly have this in common.

Secrets

The office Phyllis blackmailing Angela
Community – Abed receiving bad news and not telling anyone
Doctor Who – Abigail and Kazran about her illness
Supernatural – Dean not telling Sam what their father does
X-Files – Mulder keeping the reason for the stake out to himself until Scully shows up and then stealing her keys