In this episode Sarah Behl is here to talk about the long running animated show Family Guy.
Family Guy
Release: 1999 to present
Creator: Seth McFarlane
Voices: Seth McFarlane, Alex Bornstein, Seth Green, Mila Kunis, Adam West and many, many more
The Box Sets I own
Family Guy Volume 1 – Covers Season 1 and 2 of the show from 1999 and 2000
Family Guy Presents Stewie Griffin: The untold Story – Episode 28-30 of season 4
Family Guy The Freaking Sweet Collection – A seemingly random collection of episodes from season 2 and 3 as well as a never before aired (at the time) episode "When You Wish Upon a Weinstein"
Family Guy Cancellation
The Show was cancelled in May 2000, at the end of the second season. But by July, it seems the execs had a change of heart and ordered 13 more episodes of the show.
The show was again cancelled at the end of the third season, in 2002. After being sold to Cartoon Network it found a new fandom and found success on DVD, the show was brought in 2005 and has been on ever since.
Spec Script
Here are the 2 scenes we read. I know we didn't do the voices, but read it in the voices of the characters, it will do it justice.
Hallowe'en 2020 (title tbd. Possibly "Quarantine Wolf" or "Candy Quarantine")
Int. house. Day. Loise and Stewie meet upstairs in the hallway…
Loise: Oh, Stewie, you are dressed up as a Canadian Lumberjack for Hallowe'en? That's so nice…
Stewie: Actually, I am a Nova Scotian Lobster fisher on my way to burn down a rival fishery…
Loise: Stewie! Those fishermen committed an act of violence on indiginous communities. Their actions are racist!
Stewie: There is no racism in Canada, woman. Justin Trudeau was on Lilly Singh's late show, which means he knows an Indian. Also, sometimes he dresses like one…
Cut to Justin Trudeau in brown face on RuPaul's Drag Race, and Ru saying "Your look is ill conceived, poorly executed and is a Tru Don't. Mr. Prime Minister, sashay away…"
Introduction music… It seems today…
Scene 1
Interior, living room, night, Brian and Chris are talking on the couch in front of the TV.
Chris: There is nothing scary on Netflix!
Brian: Oh, then don't fall into the white guy vortex of the stand-up comedy section…
Chris: It is too late, I'm already here! (Flicking through the netflix list) Bill Burr, Jack Whitehall, Colin Quinn, Todd Glass, Craig Ferguson
(time passes)
Chris: Zach Galifinakis, John Mulaney, Jim Gaffigan, Brent Morin, Anthony Jeselnik, Jimmy Carr
(Time passes)
Chris: Judd Apatow, Colin Quinn again, Russell Brand, Joe Rogan, Tom Segura, Bert Krischer, Jim Jefferies,
(Time passes)
Chris: Tom Papa, Jerry Seinfield, Pattom Oswald, Marc Maron, Jeff Foxworthy, Ron White
(Time passes, it is morning, and Peter walks downstairs..)
Chris: … And Douglas, by Hannah Gatsby?
Peter: Hannah? Hey, that is not a man! That is a woman in a suit! I feel so vulnerable. (Peter clutching his housecoat around him.)
Canadian Indigenous Lobster Traps and Fisheries
Here are some articles about what is going on is Nova Scotia
https://www.bbc.com/news/world-us-canada-54472604
https://www.theglobeandmail.com/canada/article-two-decades-after-the-burnt-church-crisis-disputes-continue-over/
https://www.cbc.ca/news/canada/nova-scotia/mi-kmaw-lobster-fishery-unrest-1.5761468
DuckTales
Ben Schwartz was the name I couldn't remember. He voices Dewey. Danny Pudi is Huey while Bobby Moynihan is Louie.
The main female characters in the show are Della, Webby, and Mrs. Beakley voiced by Kate Micucci, Paget Brewster, and Toks Olagundoye.
Chew
The comic series was created by John Layman and Rob Guillory and published by Image comics between 2009 and 2016. So turns out I don't have that much to catch up on cuz I have 8 of the 10 trades for the series. It really is a good read though. Just be prepared for weird (and kinda gross). Of and it is definitely not for kids.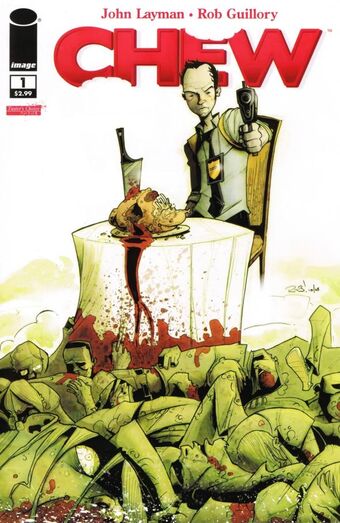 Happy!
A 4 issue comic that was released in 2012 and 2013 that was written by Grant Morrison, illustrated by Darick Robertson and published by Image Comics.
Natalie Portman Episode
The movie we couldn't remember was Vox Lux that was released in 2018.
Spock is Discovery
Ethan Peck has taken up the role of Spock in Star Trek Discovery. And DAMN!
Orville Alien
The Aliens I was referring to is Lt. Cmdr. Bortus and his husband who are Moclan. Here's a pic for clarification.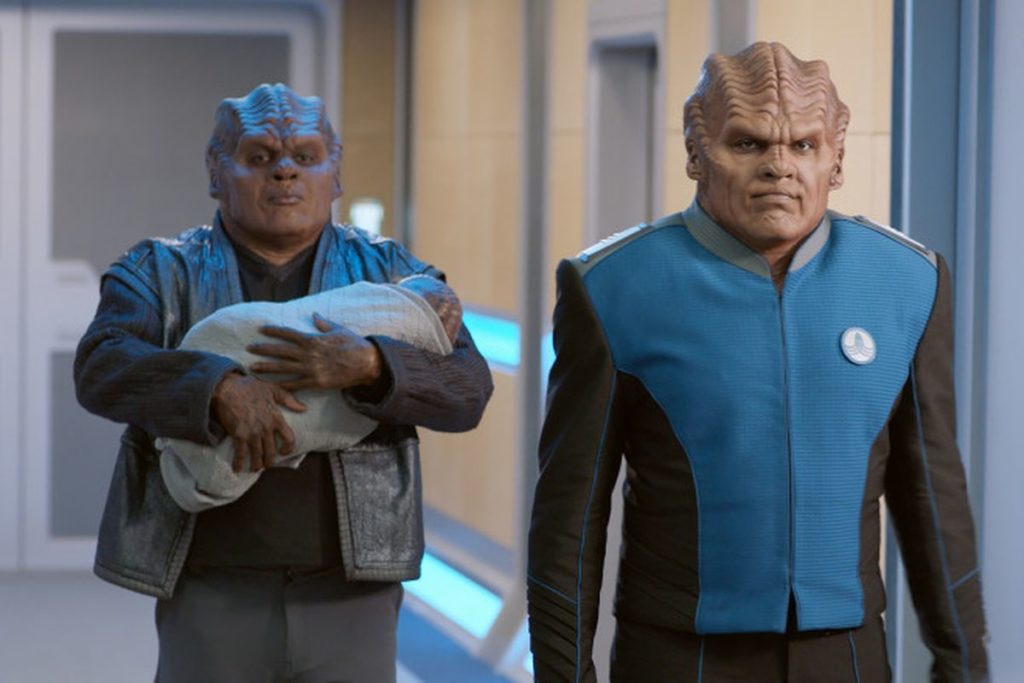 Robot Chicken