In this episode Tom Davis joined me to bring some levity into your day as we talk about 2 comedies Dirty Rotten Scoundrels and Dodgeball.
Dirty Rotten Scoundrels
Release: 1988
Director: Frank Oz
Stars: Steve Martin, Michael Caine, Glenne Headly
Dodgeball
Release: 2004
Director: Rawson Marshall Thurber
Stars: Ben Stiller, Christine Taylor, Vince Vaughn, Rip Torn, Justin Long, Alan Tudyk, Stephen Root
Community
Troy did leave at the end of Season 5 but he was only in the first 5 episodes of the season.
Dan Harmon was replaced as show in season 4 of the show.
She-Ra Season 6
From what I have found, apparently this is unlikely but there has been no official announcement about it. But the ending was purposefully left open to allow the possibility. So we will have to wait and see.
Bedtime Story
Released in 1964, the film stars Marlon Brando, David Niven, and Shirley Jones.
Intellectuality
Apparently I am smarter than I know. According to Dictionary.com and Merriam-Webster this is a word.
Ages
Apparently I am dumber than I know as basic math seems to be a problem. Steve Martin was born in 1945 and DRS came out in 1988. I said he was 33 but no, he was 43. Subtraction is hard guys!
Steve Martin Books
I misspoke when talking about his novels. His second book was actually call "The Pleasure of My Company"
Also, I should clarify, I haven't read all his books but all his novels. All 3, as i mentioned, were all excellent; "Shopgirl", "The Pleasure of my Company", and "An Object of Beauty". He has written several plays, screen plays, a childrens book, a memoir, and releases essay collections.
Crocodile Dundee
The movie that created an Aussie sensation was released in 1986 and was a huge hit. I was mentioning that i would have thought the star Paul Hogan may have wanted to point out stereotypes to the film makers but it turns out, he has writing credits for the movie. So, he put those in there himself.
Did you know it was also nominated for an Oscar? WHAT?! Yes, for "Best Original Screenplay". I honestly can't comment as I haven't seen this movie since I was like 10 so properly judging it's quality would be hard. But this realization is still incredibly shocking to me.
And I also got the scandal backwards. It was Paul Hogan who left his wife (who he had been married to twice over 32 years) for Linda Kozlowski. They were married from 1990 to 2013.
There are 3 movies in this series; Crocodile Dundee (1986), Crocodile Dundee II (1988), and  Crocodile Dundee in Los Angeles (2001).
News Radio
The sitcom was on air for 5 seasons between 1995-1999. It starred Dave Foley, Stephen Root, Andy Dick, Maura Tierney, Vicki Lewis, Joe Rogan, and Phil Hartman. Even if you don't recognize their names, these are all well known character actors whose faces you will know immediately. IMDB
Kids in the Hall Return
According to this CBC article published in March, they are doing an 8 episode run on Amazon Prime.
Animal House Payment
This is what I found in the IMDB Trivia
"Donald Sutherland was so convinced of the movie's lack of potential that, when offered a percent of the gross or a flat fee of $75,000 for his three days' work, he took the upfront payment. Had he taken the gross percentage, he would have been worth an additional $3-4 million."
So, I exaggerated a little there but he would have made about 54x what he got. That is a BIG difference.
Jack Nicholson as The Joker
According to IMDB, he got a huge payout for being in 1989's Batman.
"Jack Nicholson received a percentage of the gross on the film, and due to its massive box-office take, he took home around $60 million. As of 2003, it is still the single-movie record for an actor's salary."
Tom Hanks in Forest Gump
I was correct about his take home from this movie. It wasn't quite as much as Nicholson but it is a lot.
"Tom Hanks was not paid for this film. Instead, he took percentage points which ultimately netted him in the region of $40 million."
Sitophilia
According to the Oxford Reference:
"describes sexual arousal involving food. It is arguably the most socially acceptable type of paraphilia. Within studies that address paraphilia"
And in case you didn't know (i didn't), paraphilia:
"a condition characterized by abnormal sexual desires, typically involving extreme or dangerous activities."
Clay Pigeons
The movie that was released in 1998 seems to be a bout infidelity, death, and a serial killer. That's what I got from the description on IMDB. Also the movie poster is excessively 90s.
Scarface
The original Scarface film was released in 1932. As with the Al Pacino version, this is also considered one of the greatest gangster movies of all time, where the original is ranked #6 and the remake #10.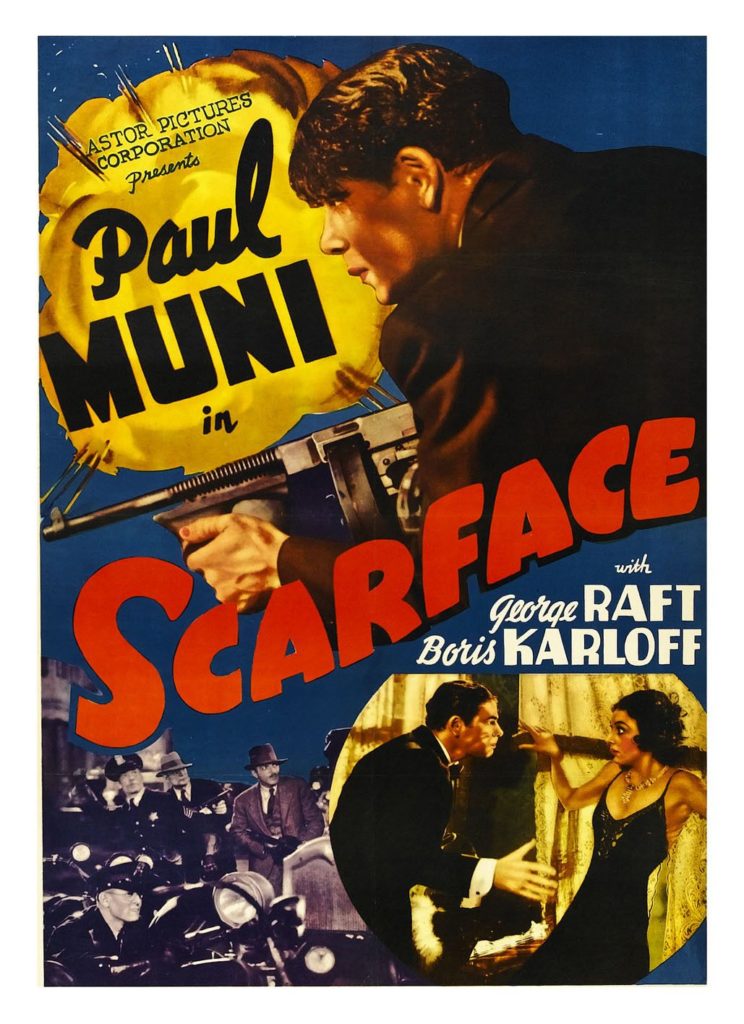 Marble Racing
In case you haven't had the privilege of watching one of these videos, here you go.
Wife-carrying
Here's the Wiki.