In this episode Sean Archer is here to talk about one of the best action franchises in history, Die Hard!
Die Hard
Release: 1988
Director: John McTiernan
Stars: Bruce Willis, Alan Rickman, Bonnie Bedelia, Reginald VelJohnson, William Atherton
Die Hard 2: Die Harder
Release: 1990
Director: Renny Harlin
Stars: Bruce Willis, William Atherton, Bonnie Bedelia, Reginald VelJohnson, William Sadler
Die Hard With a Vengeance
Release: 1995
Director: John McTiernan
Stars: Bruce Willis, Jeremy Irons, Samuel L. Jackson
Live Free or Die Hard
Release: 2007
Director: Len Wiseman
Stars: Bruce Willis, Justin Long, Timothy Olyphant, Maggie Q, Kevin Smith
Jack
The actor who plays Jack, John McClane's adult son in A Good Day To Die Hard, is Jai Courtney.
 Defund the Police
Here is an article from CNN that explains the "Defund the Police" movements
There's a growing call to defund the police. Here's what it means
AOC Tweet
This is the tweet and video I was talking about. I forgot it was Alexandria Ocasio-Cortez who posted it.
Any New Yorker can tell you that this group does not look representative of the NYPD at all.

Most NYPD patrol officers are Black, Latino, or Asian American – and the overall force is about 1/5 women.

So what's going on here? 👀⬇️ https://t.co/YrUm07pgp2

— Alexandria Ocasio-Cortez (@AOC) June 9, 2020
Van Damme as Predator?!
Well this was new to me! But I googled and easily found stories about it including this interesting picture of JCVD with Carl Weathers on set.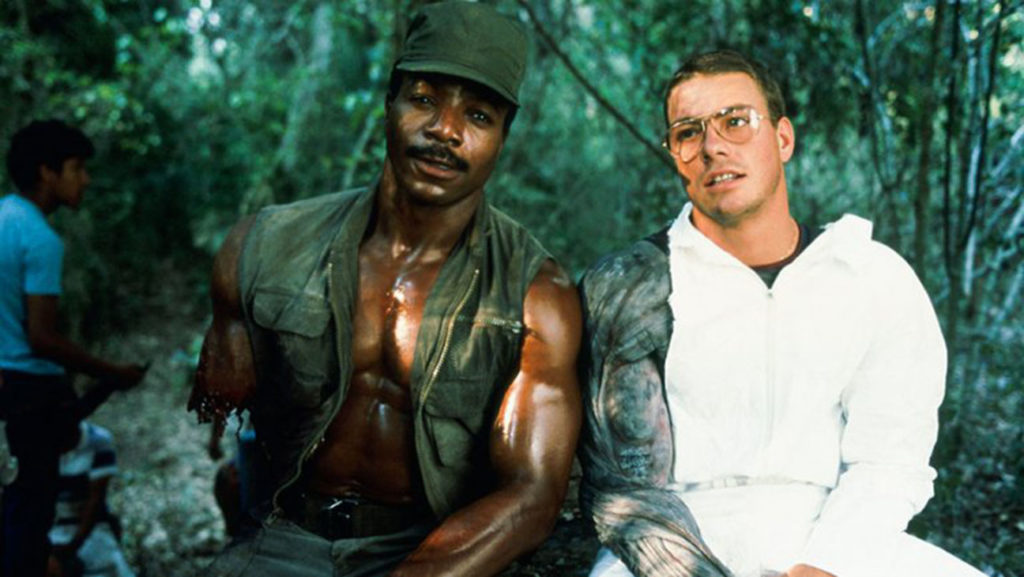 He was actually left/ was fired from the production that is why he was not listed in IMDB. Here is one of those articles from The Hollywood Reporter about why he left the project/why he was fired from it.
Why Did Jean-Claude Van Damme Get Replaced in 'Predator'?
What happened to John McTiernan?
What Sean said was correct. He was found guilty of pujury and lying to the FBI and was imprisoned for just under a year. But in that time he went bankrupt. You can read more on that on his Wiki.
Jan de Bont
He was the Director of Photography (DOP) of Die Hard and most of his filmography is in the DOP position but he has directed 5 high profile films: Speed, Twister, Speed 2: Cruise Control, The Haunting, and Lara Croft Tomb Raider: The Cradle of Life.
Margret Dickson – The woman who survived her hanging
Here is a write-up of this woman's miraculous survival after being found guilty of her very sad crime.
Half-hangit Maggie: The Scots woman who survived hanging
Chet Hanks
One of the 4 Hanks' siblings, he has actually had some very high profile roles in big movies including Indiana Jones and the Kingdom of the Crystal Skull, Project X, Fantastic Four, and the very popular tv show "Empire".
Brock Samson
One of the most intense and hilarious cartoon characters out there voice by Patrick Warburton. He is just another piece that makes "The Venture Brothers" show so great. Check out his very comprehensive Wiki.
Gentleman Broncos
Released in 2009 to little fanfare, it is such a weird and fun movie to see with very recognizable faces like Michael Angarano, Jemaine Clement, Jennifer Coolidge, and, as mentioned, Sam Rockwell.
Mythbusters
The episode that debunks this is episode 88. Link.
Samaria
We all know the bible story about the good Samaritan, even if you don't you at least have heard the term "a good Samaritan", the term refers to a person from Samaria helping someone on the road. From the wiki:
"Samaria is a historical and biblical name used for the central region of the ancient Land of Israel, bordered by Galilee to the north and Judaea to the south."
Nick Cage weird incest movie
So this movie is call Between Worlds. I was thinking this would be an older Nick Cage flick but no, it is from 2018.
David Duchovny weird incest movie
After clicking through his IMDB I found what this movie is called, The Secret. Despite being a fan of David's I probably will never watch it.